The Share The Love project  DMF's flagship Charity project with purpose to spend quality time with poor orphans, destitute and vulnerable children and train them to become Children Leaders was again launched in a grand style on the 4th of March, 2017. The project which is baptized Share The Love was done by getting orphans of orphanages and poor communities around the town of Limbe gathered together to educate them on basic hygiene practices and how to be good children and grow up as productive adults.
The training program was carried out from March in the various communities and neighborhood in which children were educated on basic hygiene practices,beads making, needle work and home economics in a bit to come out of poverty and gain skills for self employment and livelihood.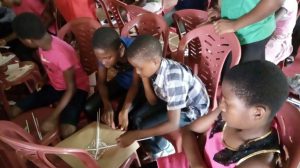 Speaking to the Founder and C.E.O of Denis Miki Foundation, Emilia Epeti Miki during the launching of the program at lady L Restaurant recently. She said the children will gain new knowledge and hygienic skills and will be trained to become productive children and adults. In which the rate of vices in the society will reduce as most children will be groomed to become productive youths. It should be noted that DMF founded in December 30,2013 is a charity organisation whose mission is to contribute to the attainment sustainable goals and community development by empowering people and their communities.
By Simon Kalla